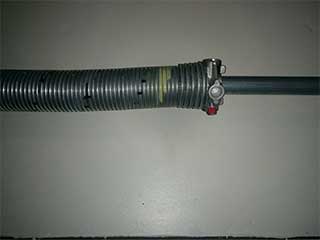 Lubrication Maintenance
There are two types of garage door springs. Most residential doors use torsion ones. They tend to have a longer useful life and to work more reliably compared to their extension counterparts. Besides, they are adjustable and this helps to improve the performance of the whole door. To ensure that your torsion spring works perfectly, you need to provide maintenance to it at least once every year. If there is dirt on the coils, you should remove it with the use of mild solvent. Then you need to apply lithium-based lubricant to all coils. Using a spray makes it easy to cover all coils from all sides. Run the door once or twice to ensure that the lubricant is perfectly well spread. If you notice any damage to the spring such as deformed coils, you should get it replaced.
Torsion Spring Adjustment
To find out if the spring needs adjusting, you have to test it first. Start by disconnecting the door from the opener. You need to pull the emergency handle first, and then lift the door until it reaches semi-open position. If the spring is in good condition, you should be able to move the door up with just one hand. Once the unit reaches the desired position, let go and step back. Ideally, the door will stay in its place. If it shuts close or shoots up, the spring will need adjustment. In the first case, the tension should be increased and in the second one, it should be reduced. If the component is too weak to lift the door, spring replacement is the only solution.