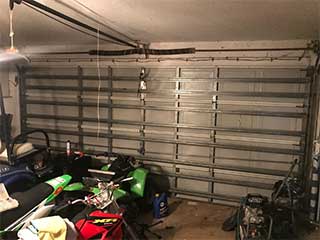 Garage doors provide security to homes as they prevent burglars from gaining access. They also protect vehicles from the outside elements and give that added help of minimizing outside noise. However, overhead doors are big moving objects. They are heavy and may cause damage or injury if not used properly. There are ways prevent unwanted accidents from occurring.
Safety Tips To Remember
If there are kids at home, it's important to teach them that they are not allowed to play near the garage door as it may hurt them. Don't let them play with the garage door clicker too. Our professionals recommend always placing the clicker in a location inaccessible to children. If a keypad is used for entry, it should be installed high enough not to be reached by kids.
There are people that try getting passed the door while it's closing. Even when there's a sensor, it's still advisable to practice extra caution by waiting for it to close properly then opening it once again before getting in or out of the garage. This prevents you or a loved one from harm. Don't touch the door while in operation as your hands or fingers could get injured. You may experience some issues with your door after some time. It may malfunction or certain parts may require replacement. Unless you're a professional, don't attempt the repair by yourself. Only those who are trained at garage door repair should handle these concerns. There have been several accidents that happened in the past, some even fatal, due to inexperienced people trying to fix their door problem on their own. This is true, especially for broken torsion springs. Do a regular visual inspection to see any potential problem so it can be repaired immediately.